Harmeet Chowdhary is a person who takes pride in others success. He is a source of positive energy and an inspiration for many. His unique ability to bring out the best in people, is one of his core strengths. He has incredible faith in the almighty and is a humanitarian at heart. His actions and beliefs strive towards helping individuals identify their true potentials and create an inspiring success story for themselves by achieving their dream ambitions and goals in life.
He is an Inspirational Speaker, Business Strategist and a Certified Celebrity Success Coach from USA. His extensive 15 years of experience in the Education, Media and Entertainment industry along with a remarkable performance record, puts him among one of the top Business Coaches in India. He has a background from The United Kingdom, London and has spent several years studying and enhancing his entrepreneurial skills in various Creative Sectors. 
He is associated with the International Coach Federation and is also a member of the Certified Coaches Alliance, Canada. He has been up-skilled by Mr. John Twitchen (Creative Director BBC, UK) on Advanced Intercultural Communication Skills and the Art of Film Production.
He has fans, followers and clients from all around the globe, who have miraculously transformed their lives and businesses through his high end, award winning impact coaching programs
 "How to Become

You"

 - 

"The Success Code"

 
​​​​​​​-
Superstar Pro 360
Harmeet Chowdhary works with clients, celebrities, individuals and groups in a range of settings, some in face to face meetings, power packed workshops and many via online video conferencing and phone coaching. 
His distinctive ability to coach online and over the phone gives his clients endless possibilities and opportunities to get the best out of his coaching. 
The flexibility and comfort they get by working with their coach from any remote location such as their office and home, saves a lot of time and money for them.
In today's competitive environment his result oriented coaching gives his clients the decisive edge as they take their business and lifestyle to a whole new level.
Learn more about how you can also transform your life and business through his award wining  Coaching Programs by clicking the link below
He has been appreciated and recognised by the best in the industry many a times, for his dedicated contribution in the education, media and entertainment industry.
He received much appreciation from bollywood eminent personalities 
Bollywood actor Gulshan Grover, Sana Khan​​​​​​​​​​​​​​ 
Mr. KK Khandewal (Chairman RERA)
Awarded the best "Personality Transformational Coach" 
for grooming the contestants of the mega event 
"Bollywood Mr & Miss India 2019" 
During the year he won various accolades in the media and entertainment industry 
Awarded for his excellence in Leadership Strategies 
(President of Epic TV & founder member of PTC Channel)
 for his outstanding performance in the Times Gurgaon Carnival and launch of their Music Channel Showbox
To learn more about Harmeet Chowdhary's achievements click the link below 
Harmeet Chowdhary is also the founder and CEO of

Hitss Entertainment

an Image Consulting, Public Relations and Event Consulting firm which has a special knack for working with aspiring Artists, Celebrities, Authors, Doctors, Lawyers, Start-ups, Dynamic Entrepreneurs, Brands and Organisations.
Salman Khan's Dabaang Tour 
He received much appreciation from the Bollywood Industry's best for his contribution and leading from the front towards one of India's biggest event after the Commonwealth Games in India 
Salman Khan's Mega International Concert Da-Bangg Tour 2017, which was held in Delhi in December at Jawaharlal Nehru Stadium.
​​​​​​​
Mahindra Excellence Theatre Awards
He hosted the prestigious META awards and interviewed the most experienced and renowned celebrities and actors from the Bollywood Industry
Times Winter Carnival - Epic Star Night
He hosted and lead the entire marketing and promotional campaigns of the event which featured renowned Singers Parmish Verma, Jassi Gill, Shibani Kashyap and many more.
To view Harmeet Chowdhary's complete Work Portfolio click the link below
His dynamic personality and passion for creativity has at many times encouraged him to be in-front of the lens in the media & entertainment industry. 
He is also the Brand Ambassador of an international menswear clothing brand and the preferred choice for various Bollywood promotional campaigns.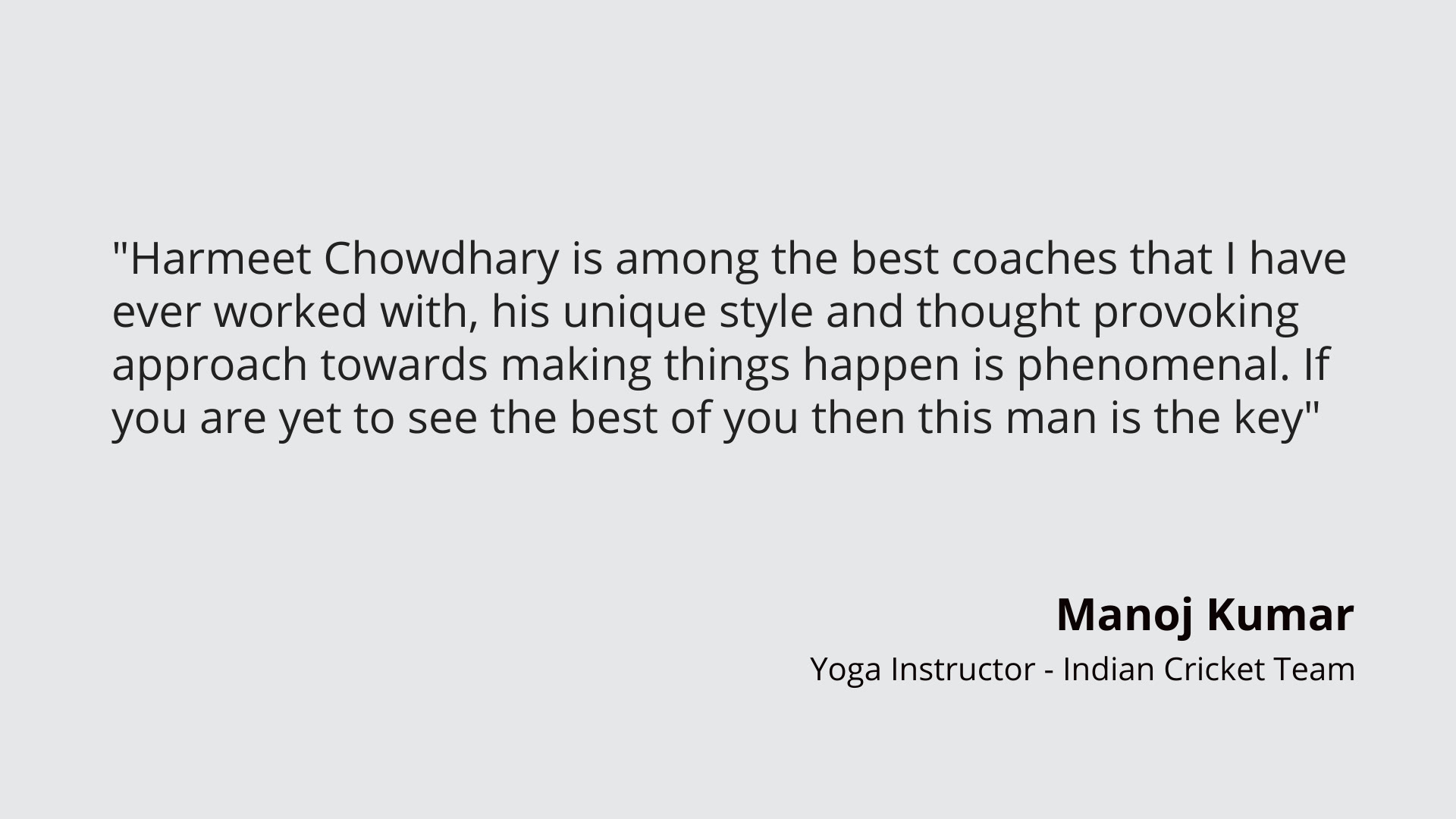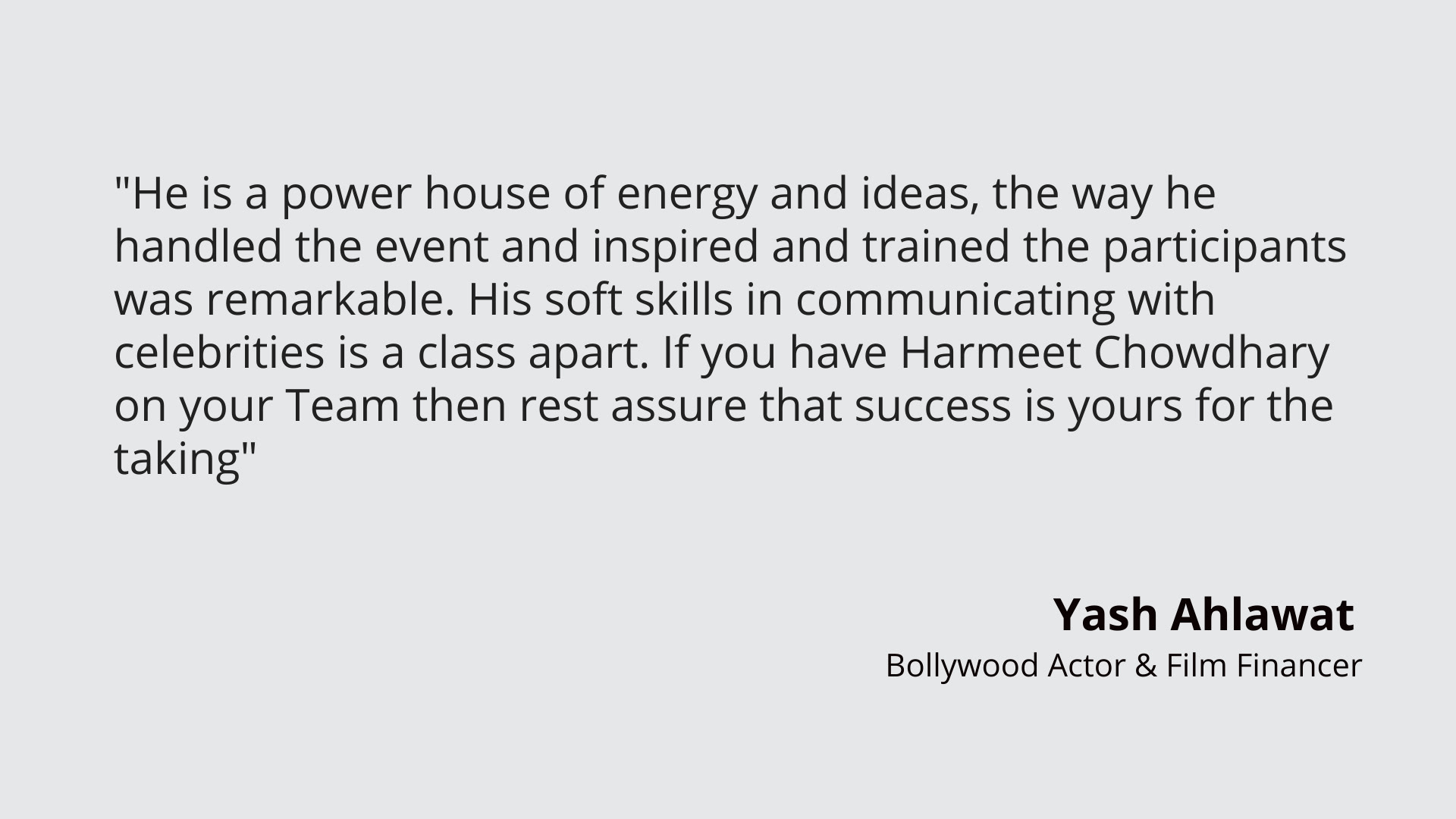 He derives his energy & inspiration from Lord Krishna & his teachings and principles from The Bhagavad Gita. He has also established a not for profit organisation

Krishna Learning Foundation

 in which he conducts free regular workshops on Spirituality and Self Belief. 
The motive behind the formation, is his vision, that education should not just be confined to those who can afford it but to also those who value it and need it the most. He welcomes everyone to become a part of the Foundation in any capacity they wish to be associated as, from being a Student, Teacher, Social worker, or a fundraiser.
Learn how Harmeet Chowdhary can transform your life and business with his Success coaching Business Consulting services.